THE BEATITUDES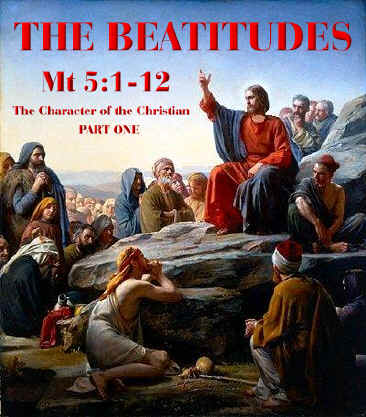 The Character of the Christian
PART ONE

(Mt 5:1-12)

a study by
Dr. T.E. VanBuskirk
---
SCRIPTURES QUOTED IN THIS STUDY: Student must look up EVERY scripture reference in this study in their King James Bible. That includes all of those scriptures that are partially or wholly quoted in the textbook. This is a requirement for the course. If you do not look up every scripture referenced in the textbook then you will fail the course.
Blanks in the workbook: - There are various blanks throughout this study. There is no provision for you to fill in those blanks. They are there only to make sure that you look up the references in your KJV. You must look up every scripture referenced whether there are blanks or not.
ATTENDANCE/STUDY/TESTING REQUIREMENTS
STUDY:

Study only one section of the textbook at a time looking up every scripture referenced in the text, that includes those scriptures that are partially or wholly quoted in the text, in your King James Bible unless you are specifically instructed otherwise for certain references. Then take the section test at the end of each section. You may not proceed to the next section until you pass the test for the current section and have looked up the correct answers in your textbook and/or the King James Bible, whichever is appropriate, for every question answered incorrectly on the test. Your attendance requirement for the next section begins the day after you pass the test for the current section and carried out the correct answer lookup procedure.

SIGN IN:

If you have not already signed in for this course, then do so now and mark the form "Begin." Click HERE to go to the sign in form.

ATTENDANCE:

Each section requires a minimum of one week attendance. You may not go on to study the next section of the text until the day after you have passed the test for the current section. Minimum attendance for the entire course is 9 weeks. Course is worth 1.5 credits. You will be eligible to take the Final Test on or after the first day of the 10th week after your sign in date for the course. Keep a record of your Sign In to "Begin" this course, including the date of sign in, because you will be required to enter that date on your Sign In form when you "Finish" this course.
This link is to a printable page, the COURSE RECORD FORM, that you will use to record all necessary information about this course. You will need the information later so you must use this form so you will have it all in one place handy for use.
SHORT LESSONS: I realize these are very short lessons. However, they are lessons in Christian character and, after studying them, each one should be meditated upon to help assimilate them into our lives. After studying each trait we need to make them a goal to strive toward and then, after meditation and prayer, make them a part of our character. The week of required attendance will give you an opportunity to accomplish this goal.

TESTING:

Make sure you read and submit the Testing Instructions Agreement if you have not already done so. The section tests can be taken on or after the 7th day of the minimum required week of study per section. If tests are submitted before that time then they will be disallowed and the student will have to retake them when the attendance requirements have been met.
ATTENTION: If you fail a test, you MAY NOT attempt that test again on the same day. You must restudy that section in the textbook and find all of the correct answers to the questions missed and then retake the test no sooner than the next day.
---
TABLE OF CONTENTS
---
NOTE - As a matter of interest: It has been proposed that
chapter 23 of Matthew gives the negative of the Beatitudes.
---
Introduction and
LESSON ONE
The poor in spirit.
Matthew 5:3
"Blessed are the poor in spirit: for theirs is the kingdom of heaven."
Memorize Mt 5:3 with proper punctuation.
You will need it for both the section test as well as for the Final Test.
Introduction: The first step in developing true Christian character is to realize our destitute condition.
In our country today, the USA, it is the mantra of Secular Humanism that everyone needs high "self-esteem." If you run a Google search on the internet you will come up with 3,400,000 pages having to do with that subject.

From the www.womenshealth.gov website which is "The Federal Government Source For Women's Health" comes the following article from November 12, 2008.
U.S. Teens Brimming With Self-Esteem (16)
WEDNESDAY, Nov. 12 (HealthDay News) -- Today's American high school students are far likelier than those in the 1970s to believe they'll make outstanding spouses, parents and workers, new research shows.
They're also much more likely to claim they are "A" students with high IQs -- even though other research shows that today's students do less homework than their counterparts did in the 1970s.
The findings, published in the November issue of Psychological Science, support the idea that the "self-esteem" movement popular among today's parents and teachers may have gone too far, the study's co-author said.
"What this shows is that confidence has crossed over into overconfidence," said Jean Twenge, an associate professor of psychology at San Diego State University.
She believes that decades of relentless, uncritical boosterism by parents and school systems may be producing a generation of kids with expectations that are out of sync with the challenges of the real world.
"High school students' responses have crossed over into a really unrealistic realm, with three-fourths of them expecting performance that's effectively in the top 20 percent," Twenge said. (Underlines are mine. - Dr. VBK)
That article shows that the problem caused by the uncritical boosting of children's egos by both parents and public schools in the secular/physical realm has grown over the decades. We are not teaching children that they can do anything, be anything, and attain anything that they want; instead we are teaching them that they can do everything, be everything, and have everything. And that is an unhealthy attitude that leads to a totally egocentric worldview as the children mature into adulthood. The problem has grown in magnitude to the point that it is troubling even to the totally secular psychiatric community that was one of the driving forces of the "self-esteem" movement over those same decades.
The article goes on to say:
Twenge stressed that youthful confidence isn't necessarily bad. "Young people have always had some degree of starry-eyed optimism, and that's probably a good thing," she said. "And setting goals for yourself is a good thing. It's just when those goals are wildly unrealistic, then that can cause trouble for everyone."
For example, young people entering the workforce may score well in job interviews if they exude self-confidence, she said, but that can quickly sour if a new employer doesn't provide them with the perks or promotions they feel they deserve. "They don't set the right goals for themselves, because they are overconfident -- and that's when it blows up in their face," Twenge said.
The blame for all this may lie with well-intentioned adults, she suggested.
"These kids didn't raise themselves, they got these ideas from somewhere," Twenge said. With Mom and Dad handing out endless praise, kids today readily believe they are somehow superior, she said. And teachers aren't blameless, either: According to Twenge, research shows that high school teachers now give out an "A" grade more easily than their counterparts did in the 1970s, even though today's high school students report doing less homework than students from that era. (Underlines are mine. - Dr. VBK)
It is obvious that even in the secular realm the boundless and unchecked push for high self-esteem is problematic in its results, to say the least; and to say the most it is, without a doubt, causing widespread societal and personal problems. To raise a generation of young people with such an unbounded egocentric worldview is to court disaster on all fronts, personal, familial, societal, and global. It leads to an uncooperative mob of takers instead of givers, claimers instead of doers, workers who are not trustworthy nor loyal, and spouses who take instead of give and have no desire nor ability to make marriage, the very foundation of our society, work in spite of outside difficulties and obstacles. Nor can they face and surmount the inside difficulties of meeting their spouses needs, which are sometimes selfish ones, and the failure of their spouse to always meet their needs because the spouse has the same egocentric worldview that they have. And with both of them having an egocentric worldview and their belief that they are somehow superior and have a right to whatever they want for themselves, no matter how fanciful or unrealistic those wants may be, they are unwilling and, psychologically, even unable to work through the problems and make the marriage work. Every precept of biblical marriage, starting with the attitude of putting the spouses needs above their own, is foreign to their very makeup which has been trained to take, expect, and demand, instead of give, cooperate, and ask. And the compromise that is an indispensable necessity whenever two people are joined in the partnership of marriage, is shipwrecked on the unforgiving shoals of "I have a right to whatever I want and no one has the right to oppose me in my quest."

And that is just the tiniest tip of the iceberg in the secular realm.

The professionals in the "self-esteem" promoting field are generally afraid to buck the tide because of personal, and many time selfish, reasons.
The New York Times
Magazine
The Trouble With Self-Esteem (26)
By Lauren Slater
Published: Sunday, February 3, 2002
"Perhaps, as these researchers (discussed in the article from which this quote is drawn) are saying, pride really is dangerous, and too few of us know how to be humble. But that is most likely not the entire reason why we are ignoring flares that say, ''Look, sometimes self-esteem can be bad for your health.'' There are, as always, market forces, and they are formidable. The psychotherapy industry, for instance, would take a huge hit were self-esteem to be re-examined. After all, psychology and psychiatry are predicated upon the notion of the self, and its enhancement is the primary purpose of treatment. I am by no means saying mental health professionals have any conscious desire to perpetuate a perhaps simplistic view of self-esteem, but they are, we are (for I am one of them, I confess), the ''cultural retailers'' of the self-esteem concept, and were the concept to falter, so would our pocketbooks."
"Really, who would come to treatment to be taken down a notch? How would we get our clients to pay to be, if not insulted, at least uncomfortably challenged? There is a profound tension here between psychotherapy as a business that needs to retain its customers and psychotherapy as a practice that has the health of its patients at heart. Mental health is not necessarily a comfortable thing. Because we want to protect our patients and our pocketbooks, we don't always say this. The drug companies that underwrite us never say this. Pills take you up or level you out, but I have yet to see an advertisement for a drug of deflation."
From the same article, quotes from Emler and Baumeister.
''There is absolutely no evidence that low self-esteem is particularly harmful,'' Emler says. ''It's not at all a cause of poor academic performance; people with low self-esteem seem to do just as well in life as people with high self-esteem. In fact, they may do better, because they often try harder.'' Baumeister takes Emler's findings a bit further, claiming not only that low self-esteem is in most cases a socially benign if not beneficent condition but also that its opposite, high self-regard, can maim and even kill." (Underlines are mine- Dr. VBK)
When we examine the evidence presented so far, one can see that just maybe they are finally coming to understand that God has it right after all! Although many of them won't admit He even exists, still, the new direction that is surfacing concerning "self-esteem," according to the new research from the psychiatrists and researchers themselves, fall right in line with what God has said in His Word for several millennia:
Psa 10:2 "The wicked in his pride doth persecute the poor: let them be taken in the devices that they have imagined."
Pro 13:10 "Only by pride cometh contention:"
Pro 16:18 "Pride goeth before destruction, and an haughty spirit before a fall."
Pro 29:23 "A man's pride shall bring him low: but honour shall uphold the humble in spirit."
Jas 4:6 "But he giveth more grace. Wherefore he saith, God resisteth the proud, but giveth grace unto the humble."
Now we will examine the spiritual side of this equation.
We will begin with the now radical acceptance of secular humanism by those claiming to be "Christian."
The proliferation of the religion of secular humanism has dragged the Biblical worldview to its lowest level. In the USA, some 78.4% of people claim to be Christians.(17) And yet the number of "Christians" that believe there are other ways to get to Heaven than through Christ outnumber those who believe in Salvation exclusively through Christ. In essence they believe that some religion concocted by man, which is always a religion of man's works, is as effective as the biblical Way of God, Jesus Christ.

Pew Forum, April 4, 2009(17)
A majority of all American Christians (52%) think that at
least some non-Christian faiths can lead to eternal life.

And the number of people who believe they can work their way to Heaven has climbed at an alarming rate in the last half-century.

Pew Forum, April 4, 2009(17)
The poll also finds that roughly one-third of Americans (30%) believe that whether one achieves eternal life is determined by what a person believes, with nearly as many (29%) saying eternal life depends on one's actions. One-in-ten Americans say the key to obtaining eternal life lies in a combination of belief and actions.
If you combine the 29% who believe in works (actions) with those who believe it is works and belief combined, which places them in the works category, then the total is 39% who believe it is possible to work one's way to heaven. We must also add to this number all of those "Christian" denominations that add works, Baptism, penance, Lord's Supper, Church membership, etc., to the Salvation process turning them into a mix of works and belief, which places them in the works category. Then add those mentioned earlier that believe that man's religion, always of works, can gain them eternal life without Christ, then the total reaches an absolute minimum of 75% of so-called Christianity that believe that works helps get you to heaven. The essence then, again, is that they believe man's way is better than God's Way. This is a result of the shift of Christians away from a biblical worldview.
March 7, 2009
Ed Stetzer has pointed out some new Barna research on the topic of adults having a biblical world view. (20)

Barna defines a biblical world view as:
For the purposes of the survey, a "biblical worldview" was defined as believing that absolute moral truth exists; the Bible is totally accurate in all of the principles it teaches; Satan is considered to be a real being or force, not merely symbolic; a person cannot earn their way into Heaven by trying to be good or do good works; Jesus Christ lived a sinless life on earth; and God is the all-knowing, all-powerful creator of the world who still rules the universe today. In the research, anyone who held all of those beliefs was said to have a biblical worldview.
Barna Group:
Overall, the current research revealed that only 9% of all American adults have a biblical worldview. Among the sixty subgroups of respondents that the survey explored was one defined by those who said they have made a personal to commitment to Jesus Christ that is important in their life today and that they are certain that they will go to Heaven after they die only because they confessed their sins and accepted Christ as their savior. Labeled "born again Christians," the study discovered that they were twice as likely as the average adult to possess a biblical worldview. However, that meant that even among born again Christians, less than one out of every five (19%) had such an outlook on life.(19)
Summary of the research definition of a biblical worldview:
Barna defined a biblical worldview as someone who believed all of the following.
1. Absolute moral truth exists.
2. The Bible is totally accurate in all of the principles it teaches.
3. Satan is considered to be a real being or force, not merely symbolic.
4. A person cannot earn their way into Heaven by trying to be good or do good works.
5. Jesus Christ lived a sinless life on earth.
6. God is the all-knowing, all-powerful creator of the world who still rules the universe today.

The Barna research on worldview going from 2009 back to 1995 shows that the shift was already at its current point and has remained constant since 1995. Obviously by 1995 the damage was already done. Even in the "born-again" group, the statistics show that those with a biblical worldview were only 18% in 1995, 22% in 2000, 21% in 2005, and 19% today.
Other core beliefs denied:
Barna Group (21)
Views on Spiritual Beings
The Barna survey asked questions about God, Jesus Christ, the Holy Spirit, Satan, and demons.
(GOD) All 1,871 self-described Christians were asked about their perception of God. In total, three-quarters (78%) said he is the "all-powerful, all-knowing Creator of the universe who rules the world today." The remaining one-quarter chose other descriptions of God – depictions that are not consistent with biblical teaching (e.g., everyone is god, god refers to the realization of human potential, etc.).

For the other survey items a four-point opinion scale was used to measure people's reactions to statements about each spiritual entity.

(SATAN) Four out of ten Christians (40%) strongly agreed that Satan "is not a living being but is a symbol of evil." An additional two out of ten Christians (19%) said they "agree somewhat" with that perspective. A minority of Christians indicated that they believe Satan is real by disagreeing with the statement: one-quarter (26%) disagreed strongly and about one-tenth (9%) disagreed somewhat. The remaining 8% were not sure what they believe about the existence of Satan.
(JESUS CHRIST) Although a core teaching of the Christian faith is the divinity and perfection of Jesus Christ, tens of millions of Christians do not accept that teaching. More than one-fifth (22%) strongly agreed that Jesus Christ sinned when He lived on earth, with an additional 17% agreeing somewhat. Holding the opposing view were 9% who disagreed somewhat and 46% who disagreed strongly. Six percent did not have an opinion on this matter.
(HOLY SPIRIT) Much like their perceptions of Satan, most Christians do not believe that the Holy Spirit is a living force, either. Overall, 38% strongly agreed and 20% agreed somewhat that the Holy Spirit is "a symbol of God's power or presence but is not a living entity." Just one-third of Christians disagreed that the Holy Spirit is not a living force (9% disagreed somewhat, 25% disagreed strongly) while 9% were not sure.
A slight majority of Christians (55%) strongly agree that the Bible is accurate in all of the principles it teaches, with another 18% agreeing somewhat. About one out of five either disagree strongly (9%) or somewhat (13%) with this statement, and 5% aren't sure what to believe.
There is no similar clarity among self-defined Christians regarding how the Bible compares to other holy books. When faced with the statement that "the Bible, the Koran and the Book of Mormon are all different expressions of the same spiritual truths," the group was evenly split between those who accepted the idea (19% agreed strongly, 22% agreed somewhat) and those who rejected it (28% disagreed strongly, 12% disagreed somewhat), while leaving a sizeable portion (20%) undecided.


From the research it is obvious that the biblical worldview has become scarce amongst even, so-called, "born-again Christians" with only 19% of them, less than one out of five, holding a biblical worldview as compared to 9%, less than one in ten, of Americans at large who do not claim to be "born-again."
When we examine the Barna research we can see that our absolute minimum estimate of 75% ties in well with their figures. Their research shows that even among the narrow group known as "born-again" Christians, 81% do not hold to a biblical worldview. Given statistical variance in any research, our estimate of 75% as an absolute minimum can be used as a very accurate guideline.
SECULAR HUMANISM
The teachings of the religion of secular humanism, taught in the public school system as well as through the prompting of the secular Psychiatric community and their promoting of "self-esteem" teachings through those schools as well as in the home, has insidiously infiltrated into the very fabric of our society and our Christianity. And let us not forget the secular scientific community and its part in the growth of the problem as they "animalize" our society with their teachings of evolution. "Man is an animal," so they teach, and, therefore, we should expect man to act and react like an animal. To serve the instincts of self-preservation, self-gratification, and self-propagation, is expected and only normal of an animal; and, if man is an animal like they say he is, then animal behavior on a personal and societal level is normal and is to be expected. Adding to that their teachings concerning the supposedly inherent ability of the animal to evolve to a higher state leads one to the inescapable conclusion that man, one day, will reach the heights of perfection once expected only of divinity. Unbounded knowledge and power over nature and one's physical self and mind must one day be attained by this animal called man.
And yet, crime is on the rise, animalistic cruelty man to man on a personal level and nation to nation in wars is on the rise, and even the genocidal wars and the "inhuman" torture and slaughter of millions becoming so common in our world today signal the deepening depravity of man, not his ascendance to greater heights. Even the term "inhuman," as used in that sense, should be obsolete if one believes the evolutionists view of man. We are animals doing what animals do when threatened, refused, or deprived, or we perceive ourselves to be so; we fight back with an animal's fury that knows no bounds, knows no "human mercy or control." We are a pack of wild dogs killing and rending to take whatever we want, savagely attacking any enemy that threatens our animal and instinctive goals of self-preservation, want, and self-propagation.
To reduce man to an evolutionistic animal and then train him and mentally lift him "up" to a perceived "superiority" over all other human beings and everything in God's Creation, to give him such a totally unbounded egocentric mindset is to make man his own final judge. And that judge will, and must, excuse his basest and most animalistic behaviors and feedings of his fleshly lusts. And when man becomes his own judge and final authority, then he has become his own "God."

This current egocentric worldview, that is now no longer the mindset and the domain of only the secularist but is now also the mindset and domain of at least 75% of the "Christians," is diametrically opposed to the biblical worldview and God's assessment of man. Only when we develop a biblical attitude of our worth and position in God's creation, as given in His perfect Word, will we be able to develop in us the true character of the Christian as taught and possessed by the divine example of true, godly, character- Jesus Christ.

In opposition to the secularist, in our studies we will find that it is not only our physical and mental makeup that is the sum total of what we are and what we can become. In contrast to that belief, we will find that it is the combination of the physical, mental, and the spiritual that makes us what we are and what we can be. In polar opposition from their position, and even out of their realm of cognition and acceptance, we will see that it is the spiritual that is transcendent in our development of character and the ultimate guide for the resultant actions toward, and reactions to, the physical creation and creatures around us and our mental reactions and adaptations to what may come in that physical realm. We will see that it is the spiritual side of man that can balance and control the mental side of man as he copes with life and his fellow human beings. We will also find that it is only through the spiritual side of man that we can receive the strength to cope with both the possible and the impossible and the strength to maintain our sanity in an increasingly insane world. Finally, we will find that the source of all strength, ability, stability, in fact the source of all that we need is in the spiritual, not the physical; and the source of all that we need to overcome is the source of all things- the Creator, Jehovah God.
Only when we have access to a biblical worldview through Salvation in Christ, and then consciously choose to adopt that worldview, will we be able to see that the only way to tap into that source of power is through our biblical Salvation through belief in Christ alone, plus or minus nothing, and the willing acceptance of and use of power and guidance from and through the Holy Spirit of God.

We will begin now with the first trait of Christian character as taught by Christ in His teatise on Christian character known as the Beatitudes.

This first trait of Christian character concerns our perceptions of ourselves and the true view of us in relation to God.
Read, in your KJV, every scripture referenced; and then meditate
on the precept(s) taught in each segment of this study. This
combination of reading and meditating will work together
to begin the transformation within you to bring about
the development of a true Christian character.

Matthew 5:3
"Blessed are the poor in spirit: for theirs is the kingdom of heaven."
Memorize Mt 5:3 with proper punctuation.
You will need it for both the section test as well as for the Final Test.
A. A spirit of destitution.
Having our eyes open to see our condition in relation to God.
Realizing we are someone who has, is, and can do, nothing. We are spiritually bankrupt!
1. This teaches us that God helps those who cannot help themselves.

        The prodigal son. Luke 15:11-32
He could not help himself so he went to his Father.

2. This teaches us that we can have no self-sufficiency, self-reliance, or
self-confidence. No "self-esteem" if you will, but rather we should have
Christ-sufficiency, Christ-reliance, Christ-confidence, "Christ-esteem."

B. This does not weaken us, as the world thinks, but instead it
strengthens us immeasurably.
As Christians, we can do anything- through Christ.

1. Never feel weak and helpless as a Christian. Claim Phil 4:13.

      Phil 4:13 "I can do all things through Christ
which ____________ me."

2. In Christ, God has lifted us out of the pig-pen of this earth.
Eph 1:3 "Blessed be the God and Father of our Lord Jesus Christ, who hath
blessed us with all spiritual blessings in _________ places in Christ:
Eph 2:6 "And hath raised us up together, and made us sit together in
________ places in Christ Jesus:
C. God sets no limits on our potential; we do!
1. Moses.

a. He went from "Who am I to Go..."? (Ex 3:11)

b. With God's power. (Ex 3:12)

c. Through the Red Sea
(Divided by the power of God in Ex 14:15-31)

d. And was used by God to delivered Israel from bondage.
e. And received God's Law directly from the hand of God.

2. Noah.

a. He went from probably being ridiculed for his seemingly endless labors.
There is nothing in the Bible that specifically states they laughed at him or ridiculed
him, but, this would have been, and is, the normal human reaction of the lost to the
seemingly "unusual" or even seemingly "impractical" or even "ridiculous" actions of
those who live righteous and try to follow God. Noah would probably top this list of the
"ridiculous" for spending as much as a hundred or more years building a huge and
seemingly useless boat while incessantly preaching righteousness and warning of
eventual judgment to be brought about by water falling from the sky in enough over-
abundance to flood the whole earth. No one had ever seen water fall from the sky
(rain) before this time so this incessant building and preaching of such wild things must
have seemed supremely ridiculous to those onlookers and others to whom he preached.
Although it is possible, and maybe even probable, that they did ridicule him, let us be
careful to not be dogmatic about this when there is no actual biblical proof of it.

b. To being lifted up above the flood by the power of God. (Gen 6:8-22)

C. Jesus, by His power, can strengthen us to do anything!

1. First, we must realize that we are destitute. ("Blessed are the poor in spirit:...")
2. Then He can save us and strengthen us.



3. Not to just get by in this life, but He will give us abundant life.
Jn 10:10 "The thief cometh not, but for to steal, and to kill,
and to destroy: I am come that they might have ____,
and that they might have it more abundantly."

D. Summary.

1. Remember that (if you are saved) you are a child of God!

2. And you can do anything that is according to His will!

3. This is a promise of God that you can claim if you rely on Him
and let Him run your life!
E. Conclusion.
Once we realize our destitute condition and learn to rely totally on Christ and His promises of guidance, strength, and power, only then will we be able to fulfill our supreme potential. And that supreme potential will far transcend anything we could ever hope to do or be on our own in all three spheres: physically, mentally, and spiritually. How much "self-esteem" we may have is totally irrelevant. How much "Christ-esteem" we have means everything, because His power and ability offered to us is limitless.

The realization of our destitute condition and learning, and practicing, absolute reliance on Christ as the only way of achieving our potential will help set the groundwork for developing true Christian Character in us.
    Mt 5:3 "Blessed are the poor in spirit: for theirs is the kingdom of heaven."
Make sure you have memorized Mt 5:3 with proper punctuation.
You will be required to quote it from memory for the Scripture
Memorization practice Test and for the Lesson One Test. You
will not include the quotation marks nor the scripture
reference, Matthew 5:3, in your answers.
You will also be asked if you meditated on the precept taught in this Beatitude.
1. You are required to click HERE to go to the practice index page to practice your scripture memorization before proceeding to the Lesson test. On the practice index page, scroll down to the practice test for this Lesson and click on it. No practice test scores are added to your file. If you do not pass the practice quiz, then to take it again just close the test and you will return to the practice index page and you can choose the test to take it again. When you are finished with your practice, close the practice page to return to this page.
2. You can not proceed to the Lesson Test without first having a 100% score on the Scripture Memorization test. Take it as many times for practice as is necessary to achieve the required score of 100%. Each practice test will automatically come to the college. If you wish to take the practice test more times to make sure you have the scripture memorized, please feel free to do so. The first practice test with a score of 100% will be placed in your test file only for verification purposes and it is a prerequisite before you can take the Lesson Test and have the Lesson score credited to your file.
3. Did you meditate on this beatitude as you were instructed to do?
(Click one answer.) Yes No Was I supposed to meditate on it?
LESSON ONE TEST
Lesson test is "open book" except for the verse memorization question
which must be answered from memory alone as a closed book question.

You cannot proceed to the next Lesson until the day after you have
passed this Lesson Test and found all of the correct answers
in the textbook to all questions missed on this test
even though you received a passing score.