Monitoring Only
Cannot be credited toward a degree or certificate.
ABRAHAM
Friend of God and Father of Faith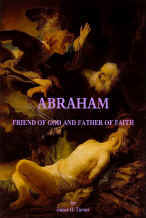 by
James H. Turner

In this course we will follow the life of one of the great men of the Bible, Abraham. In the Scriptures he is call "the friend of God" and many have called him the "Father of the Faith." We will trace His life from Ur of the Chaldees on through the 100 years in which God dealt with him all the way until his death in Hebron and his burial in the cave of Machpelah alongside his beloved Sarah. Along this hundred year path we will study both the victories and the failures of this man whom God's Word called, "the friend of God."

Attendance:
Suggested minimum Attendance per Lesson is 1 week. (This is the equivalent of approx. 1 hour of study.)
Suggested minimum Attendance for the complete course is 7 weeks.
(The reason for the extra week of suggested Attendance for the course overall is because some lessons will take more than one week.)


Course Record Form:
We do NOT keep or record your tests or any other forms because you are not taking courses for credit. If you want to keep a record of your progress you may download and print a copy of the Course Record Form on which you can keep all pertinent information for this course.


FINAL TEST procedure:
- Once you have completed all sections of the textbook and passed all of the corresponding tests, and found the correct answers to any questions missed on any test, then you may submit a Closed Book Test Contract Form. When you have done that you will automatically receive the Password and, upon receiving the Password you may take the Final Test for the course. The Final Test should be taken as closed book.

The Final Test link is in the textbook along with links to all other tests.



Access the textbook: Abraham, Friend of God, Father of Faith by James H. Turner.
Look up and read every scripture referenced in the textbook in your KJV.
(Reading the scriptures as they are quoted in the textbook will not fulfill this requirement. To get the most out of the course you should look up and read every scripture referenced in the textbook in your KJV.)